AppsWorld – WordPress Theme Documentation
Welcome to our new latest WordPress theme "AppsWorld – WordPress Theme" . In this section get step by step tutorial about Setup, Install and other for AppsWorld. AppsWorld is a nice-looking responsive WordPress theme for the Marketing Landing pages..
The theme is developed with the modern features and technologies that a person needs if he wants to create a professional marketing landing page. 3 homepage styles have made the theme easy to suit for the best outlook to the audiences. You can select the best blog style that can attract more readerships.
First Steps
Before you start playing around with this Premium Theme, let's check what you've downloaded so far:
Documentation – That's where you
License – Some info's about theme licencing terms
Upload – This is where all Theme files are (zipped & unzipped format)
Theme Installation
The first option how to install AppsWorld WordPress Theme would be to directly upload the appsworld-wp.zip file via WordPress Theme Uploader.
Log into your WordPress back-end
Navigate to Appearance > Themes
Click Install Add New
Click Upload Theme
Now you just need to find the "appsworld-wp.zip" in the Upload folder and hit Install now.
After Installed then click Active Now
If you are experiencing any issues during the installation I would recommend to check out this Screencast by Envato
Install & Setup Plugins
So at this stage you have probably noticed a warning, asking you to install recommended plugins. This is needed to get the AppsWorld Essential and Contact Form 7. Installing that is very simple, you just need to click Begin installing plugins and you will be redirected to the plugin installation page where you can install Plugins.
Theme Install From FTP
The second option how to install this Theme would be the upload via FTP manager. It really dosen't matter which of the two ways you choose, just choose the one you feel more comfortable with.
Login to your FTP account and navigate to your WordPress Installation directory
Navigate to the folder /wp-content/themes
Upload the "appsworld-wp" folder (not the .zip-file). This is the folder located inside the "Upload" folder in the zip-file you've downloaded from Themeforest.
Now log into your WordPress backend
Navigate to Appearance > Themes
Find the Theme and click Activate
Home Page Setup
After installation and activating AppsWorld , you need to perform the following tasks to enable landing page.
Create new page (Pages > Add New) with a title "Home Page" and keep the content blank. Now assign it "Home Page" page template from the right side page template drop down menu. Now save/publish it. Create another page. Enter "Blog" as title and keep the content field blank. Now save/publish it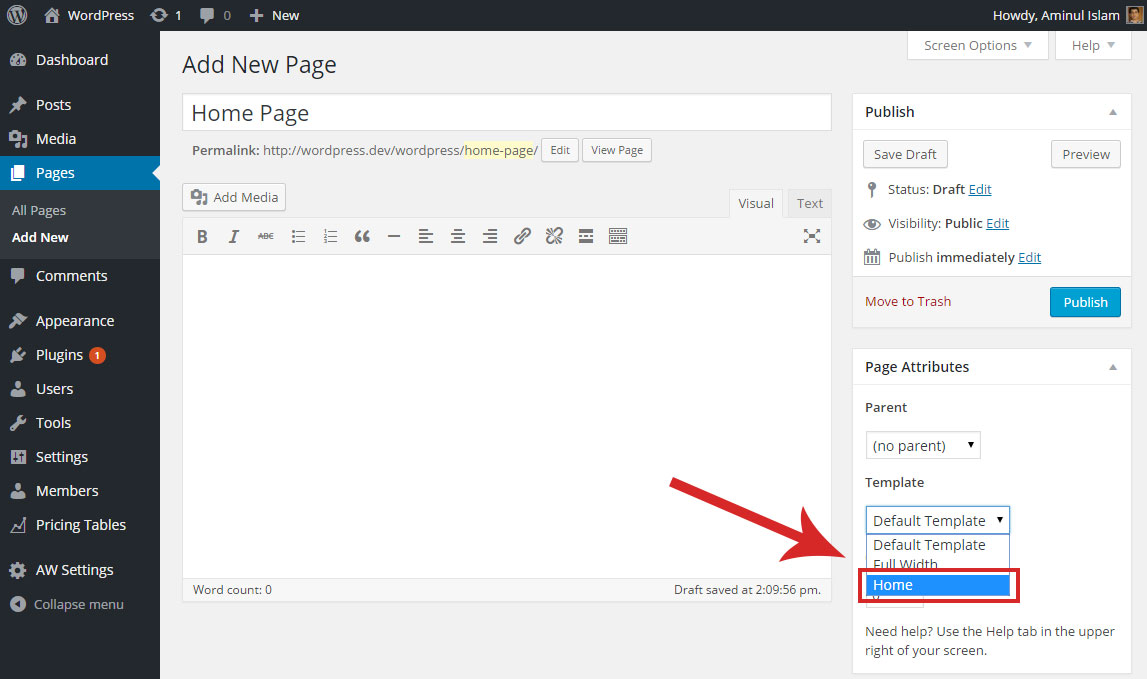 Go to Settings > Reading Menu, From the "Front Page Settings" section, click on static page, and select previously created Home Page and Blog from the drop downs as shown in the picture below and save. You can select your website menu from Appearance > Menu menu from Admin panel.
Theme Options
If you want to change the general options of the theme, go to your WordPress Admin Area to AW Settings Option menu. Here you have a tabbed Navigation where you can change a lot of Options of your new Theme. There have lot's of option for AppsWorld Theme.
General Settings
Banners

Banner (version 1)
Banner (version 2)

Achievement
Features

Features (version 1)
Features (version 2)
Features (version 3)
Features (version 4)

Download
Team
Pricing
Testimonials

Testimonials (version 1)
Testimonials (version 2)

Screenshots
Blog

Landing Blog Section
Blog Settings

Clients Logo
Newsletter
Contact
Footer
Backup
General Settings
This theme section is very important to setup your website. In this section you will be able to change logo, change menu , As well as Section sorting etc. Let's see what you can do this this section .
1. Logo Settings: In this section you can able to set your website logo. You can set image logo or a text logo for your website.
2. Menu Setting:  From this section you can change menu style of your website. We have 2 menu variations . Top Section menu and Side Off Canvas menu. Also You can set your custom menu item from here.

3. Social Icon:  You can also able to set social icon from here. You can display off icons or set there links from here.
Style Settings
In this section you can control our AppsLand WordPress theme's color, style and others. Mainly we design 3 home page style. You can easily switch your theme style from Select Your Homepage Style section. We have default, gradient and dark version. Just select your style and save for change your theme style.
Also there have theme color changing option . From Theme Color section you can pickup your theme color and set it.
Section Position:
This settings options for sorting, deleting or moving your theme section. From this setting you can do those things easily.
Banners/Slider Settings
From this setting option you can set your website banner options. You can change this section, image, text, Title, Description, Content, links and more. There have 2 version of setting. Select one which you wan to like use in your theme
Achievement Settings
In AppsWorld WordPress theme , to change count of Achievement you can go this section and set them easily. From this section you can set Section name, icon, title, description, items etc.
Features Settings
In this section you can change your feature section. You can able to change/add section name, title, icon, heading, description, Slider image. Here is an option for add Section Item, There have 4 version of Features Section. For adding your intersted section go General > Section Position option.
Download Settings
In this setting option you can add your download section information like name, icon, title, description, image, download link , features.
Team Settings
For adding Team member you can go WordPress Dashboard > Members > Add Members menu from WordPress admin panel. Also you can change this sections title, description etc from here.
Pricing Settings
For adding pricing with AppsWorld WordPress theme you can visit from WordPress admin panel to Dashboard > Pricing Table > Add New . And this settings panel you will be able to pricing section basic things.
Testimonials Settings
In Testimonials settings you can add testimonials item, section title, descriptions, icons, images and more.
Screenshots Settings
For setup your apps screenshot you can go this setting section. From here you will be able to add section title, icon, description, upload screenshot and more.
Blog Settings
There have 2 main settings for blog section. 1st for Landing page blog setting and another is blog page setting which is default blog section for wordpress. You can able to setup Section title, description, icon, How many post you want to show in landing page, Blog style.
In Default blog settings you can change menu style, Page header background, archive, page , single post layout with sidebar or without sidebar style.
Clients Logo Settings
If you want to add or change your client logo from your website then go in this Settings panel for change clients logo.
Newsletter Settings
You can set your newsletter from this section. Also you can intregate mailchamp to build email list . Just follow instruction from there. There have option also for setting title, description and others
Contact Settings
For add Address information, Google Map and others contact information you need to use this Contact Settings option. Also you can setup your social icon in contact section from this steps.
Footer Settings
If you want to add footer section copyrighted text then you need to visit footer settings.
Import/Export and Backup
If you need to export or import your theme settings from one website to another then you can use this settings. You will get setting json code. Just copy and paste it your new theme. .
Support & Thank You
If you getting any problem to install or setup our Heal Premium WordPress theme just contact in
Email: codexcoderltd@gmail.com
Skype: codex.coder
Support Forum: http://support.codexcoder.com
Again, Thank you so much for purchesing our Heal WordPress theme. We will be very happy if you give us a 5 star rating for Heal. We are waiting for you !!!